Download RestaurantNews.com Restaurant Marketing Ideas For April!
There are several interesting marketing ideas for each day of the month and it's free from RestaurantNews.com Restaurant Marketing Ideas For April. Everything from National Beer Day to National Pigs In A Blanket Day (yes, it is actually a National Holiday, and sadly, no, you do not have the day off). And while you're there, sign up for their newsletter. It's filled with terrific ideas on how to grow your restaurant business!
In the article, Restaurant Marketing Ideas For April, there are so many ideas that you can use to grow the restaurant marketing in your business. Click the link and see ideas like Fish Fingers and Custard Day, National Cherry Cheesecake Day and a lot more.
Your business depends on being able to stay in front of your customers and at the top of their mind, so when they decide to go out for lunch or dinner, they think of you first. So when you post on Facebook or send out an email, it's important to say something that your guests will notice and find amusing, fun and interesting. What's nice about the Restaurant NewsRestaurant Marketing Ideas For April is it gives you a large number of ideas that can help you be amusing, fun and special for your guests.
Brown Foodservice is always looking for ways to help you grow your business. Because if you grow your business as a result of something we did or helped you with, we sincerely hope you will pay us back by buying your next order from us.
Often growing your restaurant through restaurant marketing ideas for April or any other month, requires some creative thinking. Reach out to your Brown Foodservice Representative for more information on how we can help you grow your foodservice operation.
To start a conversation with Brown Foodservice, click here.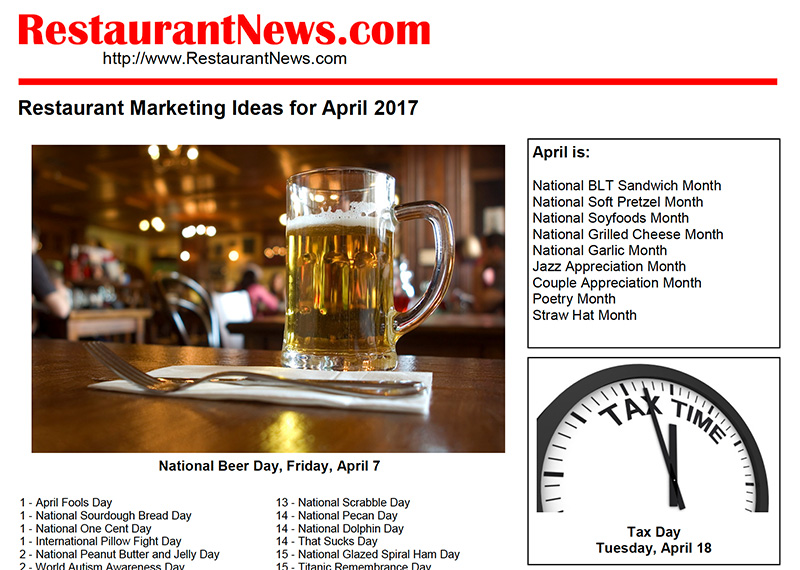 RestaurantNews.com can be found here!