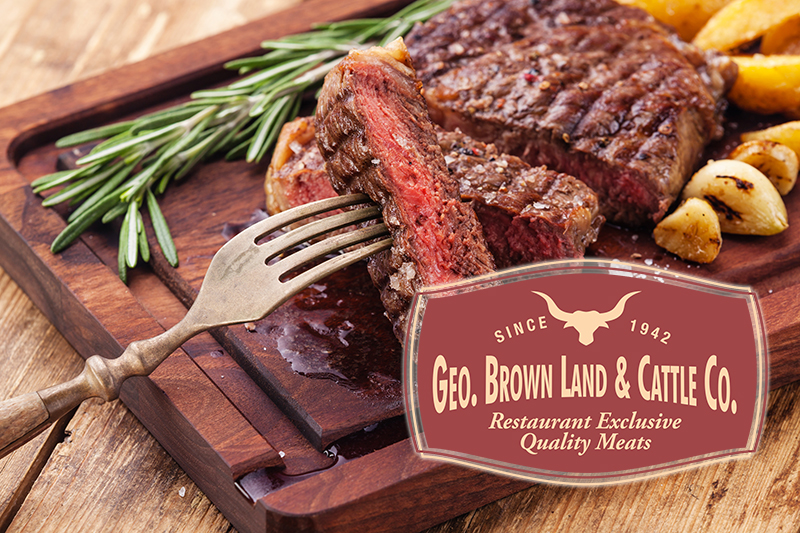 Here are the top 5 reasons your restaurant menu needs a better steak.
Restaurant customers are always looking for something they love in a new form. This is as true now as it was when restaurants were first invented in France many centuries ago. And what they really like in a restaurant are foods they cannot make on their own, and foods they can't get at a local grocery store, or anyplace else for that matter. Which is why Brown Foodservice introduced Geo. Brown Land & Cattle Beef last year, to offer our restaurant customers a new line of beef products guaranteed to only be available through local restaurants.
So why put a new steak on your menu? Here are the top 5 reasons your restaurant menu needs a better steak.
1 – It's All About Price Points. The way a consumer makes a purchase decision when they order food is partly about the price points on the menu. What a customer will do is compare each item on the menu based on price, and then purchase an item that is about ¾'s of the way to the highest price. So when you add new steak items to your menu, if you do it correctly, you will also raise the overall check average in your restaurant.
2 – It's Also About Flavor. When people eat at your restaurant, they are experiencing the foods, atmosphere and service. And the better the flavor of the food you offer, the more your guests will talk about their experience, the more they will be willing to pay for it, and the more they will want to come back. A better steak on your menu will attract more customers and give your restaurant brand a reputation for being a quality restaurant.
3 – Exclusivity Sells. If everyone can offer your products, then why buy from you? A better steak that is only offered at foodservice will offer your customers a reason to eat at your restaurant because they can't get that steak experience any place else. Which is why Geo. Brown Land & Cattle Beef is only offered to our restaurant customers and not to local grocery stores.
4 – Consistency Is Key. What you're looking for is a consistent product in size, ease of use and quality of flavor. The first time a consumer falls in love with your steak they should be able to come back and get the exact same steak over and over again. This is essential to your success as a foodservice operator. And that's exactly what Geo. Brown Land & Cattle offers your restaurant. Each steak is aged a minimum of 28 days and comes cut to an exacting size making the finished product remarkably consistant.
5 – Higher Plate Contributions Offer Real Dollars To The Bank. Many restaurant operators mistakenly believe that low food cost percentages is how you measure success in a restaurant business. But that's not true at all. What makes you a successful restaurant operator is how much money you get to take to the bank every day, and the best way to increase profits is to offer items that have a high plate contribution, or a lot more money to the bank. And steaks are some of the highest value items you can offer in a restaurant with very high profit contributions. Think of it this way, soup has a very low food cost percentage, but if everyone who visited your restaurant just ordered soup, you would go out of business in less than a month. But if everyone came into your restaurant and ordered steak, even though it has a higher plate contribution, you would be on vacation at the end of the year.
Geo. Brown Land & Cattle Beef is an exclusive offering from Brown Foodservice. Contact your local Brown Foodservice representative today for information on how you can qualify to become a Geo. Brown Land & Cattle Restaurant.