Our Exclusive Pizza Brand
Mama Bruno's is all about bringing the flavors of home to you & your store. We believe in a quality pizza your customers will love. Together we will help you build a fantastic pizza program for your business!
Mama Bruno's, (Mamaw Brown in Italian), is named after the beloved matriarch of Brown Foodservice, Mary Jane Brown. She was an astounding cook and quite the businesswoman alongside her husband and business partner. Mama Bruno's is proudly modeled after her culinary skills and loving nature. We aim to share that same love of great food & great service with you!
Now Delivering Hispanic Items
Looking to spice up your menu? Brown Foodservice now delivers Hispanic food items!
Ask your local sales representative for the growing list of Hispanic items we offer. We pride ourselves in going the extra mile for our customers. If you're searching for a specific item please call (606) 638-1139 Ext. 1
Our Exclusive Coffee Line
We believe that a good cup of coffee is a whole lot more than simply a warm drink to jump-start you day. Coffee is a daily ritual, a peaceful moment, and a conversation with loved ones.  Brown Foodservice is proud to offer an exclusive line of coffee to our customers. This coffee was built with the mountains in mind. The Appalachian Morning brand includes roasts such as Gold Roast, Mother's Roast, and Decaf Coffee in a variety of sizes to meet each individual customer's need.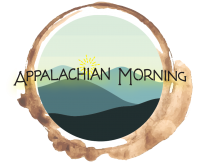 Our Products
Brown Foodservice, Inc. is a broadline distributor with diverse product lines that meet the extensive needs of the foodservice industry including independent and multi-unit restaurants, casual dining, caterers, c-stores, healthcare facilities, schools, delis and pizzerias.
Consistent quality products are the lifeblood of any foodservice operation. Your customers become fans of your operation because they know they can get great food and service time and time again. That's why we offer leading brands and exclusive items that are only available to qualified foodservice operators.
With more than 8,000 individual items perfect ordered and delivered to meet the needs of today's foodservice operations, you can rely on Brown Foodservice to deliver the right product, on time along with the service you need to make running your operation smooth and consistent.
As a member of Unipro Foodservice, Inc., we're associated with one of the largest foodservice networks in the world. Because our network is so large, we have access to purchasing power not available outside our affiliate group. Each distributor in Unipro is independently owned. This industry position provides us with enhanced purchasing and marketing abilities, competitive with the largest corporate distributors, while keeping family ownership and local representation that understands the markets we serve better than our competitors. We carry the finest and most recognized brands in the business along with a line of exclusive brands only available to our local customers.

Frozen Meats & Seafood
Frozen Vegetables & Entrees
Appetizers
Speciality Desserts
Complete Pizza Line
Deli Products
Fresh Produce
Pre-Cut Produce
Fresh Meats
Boxed Beef
Refrigerated Meats & Salads
Dairy Products
Dressings & Spices
Canned Goods
Bakery Supplies
Coffee & Beverage Program
Paper Products
Cleaning Supplies
Equipment & Supplies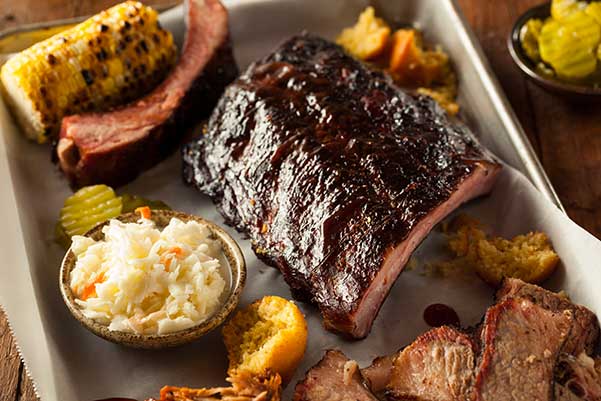 Operator's Edge
Brown Foodservice customers have exclusive access to UniPro Operator's Edge, a website link that offers Menu Ideas, Consumer Insights, Safety & Sanitation Information, Marketing & Social Media Tips and a host of other great information to help you grow your restaurant or convenience store, and be more competitive in this ever changing industry.
The program is open to foodservice operators who are current customers of Brown Foodservice. To get started, click here.
Already signed up with Operator's Edge, here's your link.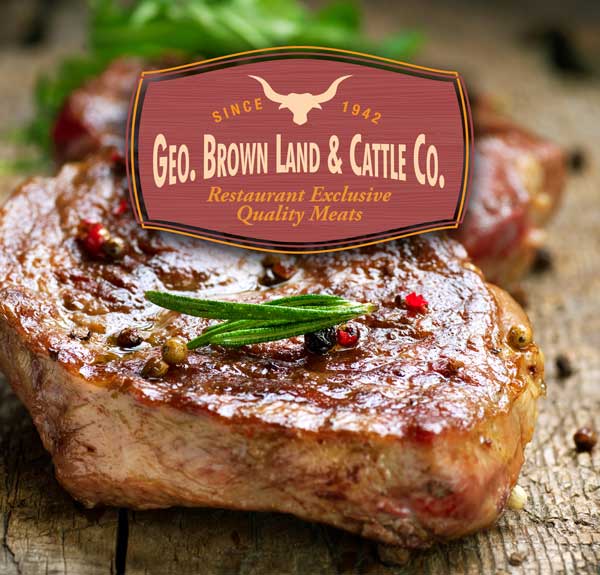 Geo. Brown Land & Cattle Co.
Brown Foodservice offers a line of exclusive restaurant protein that is reserved solely for our customers. The meats are specially selected and packaged, whole muscle products that carry the Geo. Brown Land & Cattle Company label. The extent of the offering includes choice or better graded beef, pork, and poultry products along with some very exclusive seafood products. These items are packaged to-order exclusively for Brown Foodservice with the highest of standards for quality and freshness.